This company is betting on a large percentage of people becoming remote workers...
Due to COVID-19, I think they're 100% right!
I have smallish / biggish announcement to make. 
It won't effect you much but for me it's a big deal. Hence smallish / biggish.
We are moving off of Substack.
The most important thing for you to know is your emails from me will start to come from henry@rocketshipjobs.com instead of rocketshipjobs@substack.com.
If you want a deeper explanation of why I decided to make this move, feel free to message me. I will dive into the specifics with you. 
Ok, on to the post.
---
Oh yea, before we start.
Don't forget we dropped another podcast on Monday. 
This one was with Adam Ryan of The Hustle. 
I know a lot of people on this list have found me via the Hustle and Trends so I think you will definitely find this interesting. 
Here is a link to the podcast.
I also wrote a pretty long Twitter thread with some podcast highlights that you can check out as well!
Ok, seriously now on to the post!
---
Enter 

Facts:
Firstbase is is an all-in-one provisioning platform that lets companies provide all the practical equipment their remote workers need at the touch of a button.

Founded August 2019 by Chris Herd and Trey Bastian

So far they have raised $75K total. They are currently a preseed company.
Why I like:
🌍Remote work is booming because of COVID-19. 🌍

It was growing before this but now it is another level.

Large companies are already saying they will go remote full time. It makes sense financially but also due to the way COVID-19 spreads it also makes a lot of sense.

As more companies move to permanent work from home they will need the ability to easily buy the hardware fore those workers.

Firstbase is already seeing a big bump in interest in their product during the current quarantine.

A few other stats about Firstbase I saw that were interesting.

Pilot with UK bank almost agreed. It could be much bigger than originally thought, they may get every critical worker setup at home. 40,000 working remote today, would = $80M ARR.

Proof of Concept (POC) with US startup. We've been approved by legal, about to sign an 18-month contract, $420K+ ARR at scale.

Moving toward final steps with a global tech company. Meeting with senior leaders went very well. Awaiting feedback and next steps. $2M+ ARR at scale.

Moving forward with four startups. It would initially start at 3-10 work sets per company. All are well funded and could grow to 50+ in the next year, $100K+ ARR at that scale.

Demo'd several massive healthcare systems. We submitted SOWs to them, each potentially 1,000+ seats immediately, ~$1.44M ARR. Slow-moving due to the current situation.

Early conversations with a Global real estate broker. Keen to become a channel partner and offer Firstbase as a solution to a problem their global clients have right now.

That said, nothing counts until the money is in the bank.

But the amount of deals and size of the deals they are discussing is great for the long term potential of the company.

The $80M deals will not happen now or anytime soon but if they get to a few hundred thousand ARR they are in a great place.

🤑 This is also a BIG opportunity! 🤑

What Firstbase really does is help companies save time and money by facilitating the buying process with their suppliers.

I have a friend that started a company that does something very similar in the IT space. They recently raised an $11M series A but I imagine much more is to follow.

Think about the number of people a service like this can potentially help the numbers get VERY interesting.

🤩 I don't know the founder well but what I've seen so far I like. 🤩

In today's market it's a lot easier to make a product than it is to get distribution for it.

For that reason, finding a founder that understands marketing and sales is important to me.

Even if they can't execute the marketing its important to understand the importance.

Chris Herd is can execute marketing. He gets it!

Also Chris is experienced.

He wasn't successful in his first attempt as a founder but sometimes failure is the best teacher.

I loved this thread he did on Twitter about how he pivoted from his old company into Firstbase.

📈 The company is small today but as you saw above, it is growing. 📈

This is the earliest stage company we have featured on Rocketship Jobs but it wont be the last of it's size. Getting in early is the key to owning a reasonable amount of equity.

The word is they are also about to close their seed round of funding so getting in now would be AMAZING!
How I would get the job
If I was trying to get a job at Firstbase, I would go directly to Chris or Trey.
I assume they are receiving a lot of applications to their Google Form. They also probably do not have a lot of time. Use that to your advantage, stand out from the crowd.
Below is their contact information:
CEO - Chris Herd
Twitter - @chris_herd
Email - chris@firstbasehq.com
Twitter - @TreyBastian
Email - Trey@firstbasehq.com (not 100% but based on Chris email, which I know is correct, I would assume this is right as well)
I would focus on reaching out to Trey. Chris is the CEO but he seems a lot harder to reach. Trey on the other hand, is not as well known. Look what he even says on LinkedIn page: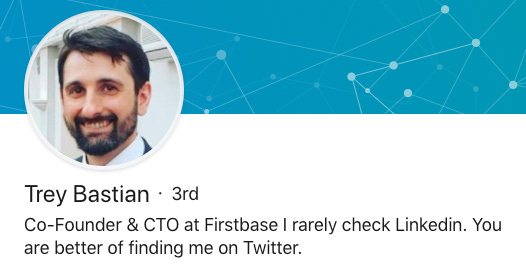 I would start on Twitter but I would also reach out on email.
Both will be involved in any decision making but Trey seems like an easier point of entry.
A few topics I would reach out in regard to:
They have over 1500 companies on their waitlist, how can you help them with this. The longer they wait to close these deals the higher the chance they will not close them.

I would focus on how you can help with Onboarding, demoing or closing deals. All are critically important right now.

Also, in Chris Substack he mentioned they are entering a critical phase for hiring. They are looking for an Operations Manager in both the UK and the US, as well as developers and a product manager. If you can show your experience in any of these, I would craft a strong cold email.

Investors, they were working on closing their Seed round of funding but it has not been announced yet. If being a part of that round is interesting to you, now is the time to speak with them. Here are few points to focus on

How could they help us fulfill the existing demand we have

How does their portfolio/personal connections empower us as GTM strategy

How can they help as we grow the team and ramp up hiring
---
Ok, thats it for now.
If you're enjoying getting these emails remember to add henry@rocketshipjobs.com to your contacts so future emails don't go into your spam folder.
If you don't see anything from me by next Monday then go check there.
As always, please share with friends that you think will enjoy this opportunity. We're all in this together! 😁