🔥📈LISTEN: Zoom is who this company could grow like! 📈🤑
BTW, Zoom has grown 20X since December
I was going to write about a different company but after doing some more research I decided to go a different route.
If you want to know the company just email me, I'll tell you. Im always open to having a discussion about this stuff.
Also, as always, if you enjoy this email and think you know someone that will benefit from it please forward it or
---
Today's company is

Facts:
Gong is a revenue intelligence platform that captures customer interactions to help companies better understand what is being said so they can close more sales deals.

Founded in 2015 by Amit Bendov and Eilon Reshef

Raised $133.1M in funding and most recently raised $65M in December 2019

Have a total of 310 Employees
Why I like:
They're riding the Zoom wave.

If you don't know what I mean, its simple, Zoom has grown from 10M daily users in December to over 200M daily users today.

That is 20X in 4 months.

All of these people won't use Gong but a lot them can.

If you go on Twitter and search Zoom you will see most people are using Zoom for business.

Gong's ideal clients do sales via platforms like Zoom.

This is great for Gong's growth.

Gong is great for a work from home environment.

Although Gong wasn't created for people working from home, it is the perfect use case.

Gong is for sales managers and leaders to listen in on sales calls of their reps.

It was created for the inside sales community but in a world where ALL sales reps are working from home it is perfect.

As more sales meetings happen on Zoom more sales managers can use Gong to help their sales team improve.

Although all sales reps won't be working from forever, the amount of sales reps that will use tools like Zoom has increased forever.

The Gong leadership is very likely beating that drum pretty loudly right now!

Gong is growing fast but there is still a lot of room for growth!

Today, Gong has 310 employees, that is up from 79 in April of 2018.

They have also grown their user base by more than 3x from 2017 to the beginning of 2019.

This is all while achieving almost zero churn.

These are signs that Gong has a great product.

What stands out the most to me about Gong is what they have done from the beginning of 2019 to now.

In the past year they have received an extra $100+ million in funding and are growing the sales team hires by 175%.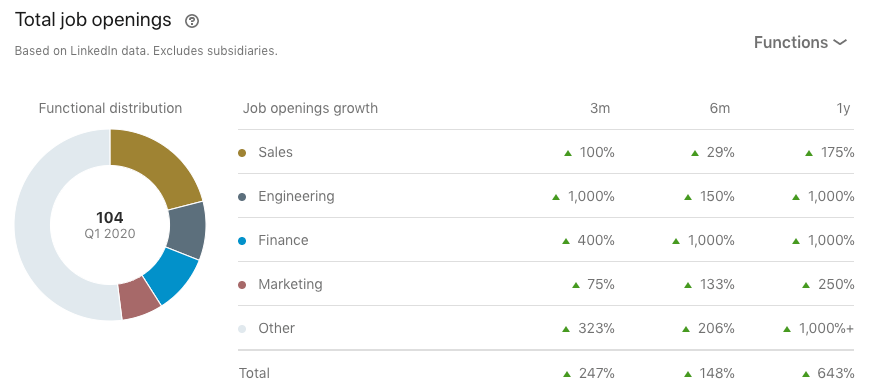 This is a sign of a company that is going to expand their Enterprise account focus. This is where the money is made for a company like Gong.

Slack for example makes 40% of its revenue from enterprise accounts. I would imagine Gong will soon see a similar revenue breakdown.

They have created a new category called Revenue Intelligence and they are ready to cash in.

Gong is ready for the storm

If I am wrong about everything I am saying above, Gong should still be ok.

They don't have too many employees, they only have two offices and they recently raised a lot of money.

They should have money in their bank account for a few months of not hitting their expected revenue.
I say all that to say, if I was in the market for a new job I would definitely be looking at Gong as a place to work.
They have a lot of opportunities open for all kinds of skillsets.
Check them out below:
Well, that's it for now.
I hope it was helpful.
If so, think of one person you know that hates their job or was recently laid off and forward this to them.
I will love you forever 😁
Ok, now I am going for a bike ride. Seeyah!